We are currently taking a break and will be closed until May 18 2021. We hope to see you when we reopen in the Spring!
The Wildflower Inn and Juniper's Restaurant
Summer is a special time here at the Wildflower Inn. The flowers are in full bloom and the warm air is a refreshing change after Vermont's notorious April mud season. While the lupines are in bloom, just as they were at this time last year, walking around the property feels a little different this year. The same smiling faces are tending to gardens and serving burgers and beer on Tuesdays, though with a layer of cloth covering the faces. Jim O'Reilly will still be tending to your needs - and the needs of his new chickens - though from a 6 foot distance. In light of the corona virus situation that we have all been affected by, there are a few changes that we would like you, our welcomed guests, to be aware of.
Please take a look at Our Covid-19 Response, and we hope to see you soon!
JUNIPER'S RESTAURANT: We are open Tuesday-Saturday 5-8:30pm for outdoor seating, as well as limited indoor seating. Tuesday's are Burger and Beer Night, and Wednesday's are Wine on Wednesday. Take a look at our Dining page to find out more about these deals!
LODGING: Anyone returning or traveling to Vermont must follow Vermont's mandatory quarantine policy. Vermonters returning from an out-of-state trip must complete either a 14-day quarantine or a 7-day quarantine followed by a negative test.
If you have been vaccinated, you do not need to quarantine to travel to Vermont or return to Vermont, as long as at least 14 days have passed since you received your final vaccine dose.
Residents of other states must adhere to the quarantine guidelines:
Travelers arriving to Vermont in a personal vehicle must complete either a 14-day quarantine or a 7-day quarantine followed by a negative test in their home state and enter Vermont without further quarantine restrictions.
Travelers arriving to Vermont who have not completed a pre-arrival quarantine must complete either a 14-day quarantine or a 7-day quarantine followed by a negative test upon arrival in Vermont (such as at a Vermont lodging establishment). (Travelers must stay in their quarantine location for the duration of quarantine other than to travel to and from a test site.)
Read more about quarantining at the Vermont Department of Health website.
Purchase a Giftcard
As with most all inns and restaurants, we are not able to operate at full capacity. This is a difficult time for businesses in our industry and we are no exception. If you have the means, and are planning to visit or dine with us in the future, you can help us through this time by purchasing Gift Cards from us.
A gift card to Juniper's Restaurant and the Wildflower Inn makes the perfect gift for anyone, especially those hard to buy for or who just seem to have everything!
To purchase your gift card call (802) 626-8310 or (800) 627-8310, or email info@wildflowerinn.com.
Looking for an authentic Vermont country Inn? Maybe a family resort vacation, friends get away to Kingdom Trails or Burke Mountain, or a romantic getaway at a bed and breakfast for just the two of you? Thinking of taking a trip to Vermont for your summer getaway, mountain bike experience, fall foliage viewing, or a winter ski vacation? The Wildflower Inn is a Plein Air painter's paradise, a nature lover's wonderland, and a mountain biker's heaven. Whatever the reason, the Wildflower Inn is the perfect Vermont destination.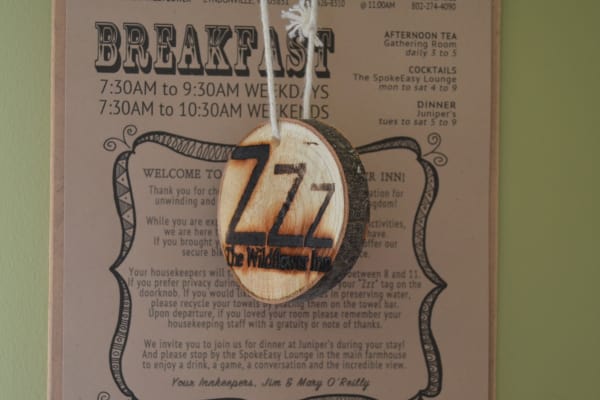 Why You Should Book Direct
Best Rate & Amenities Guaranteed
The following amenities are included in your stay when you book direct:
Best Rates Guaranteed
Full Country Breakfast every morning
Fresh baked goodies for Afternoon snack
Book your dinner reservations at Juniper's with your stay
Book Now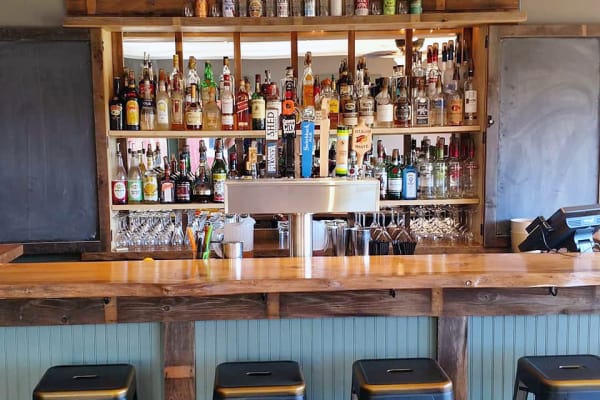 Dining at The Wildflower Inn
Breakfast, Dinner and Lounge
Juniper's restaurant is the #1 farm to table restaurant in the Burke Mountain area, with extensive options for gluten-free and vegan guests.
The SpokeEasy Lounge is the best for an after ski (or bike) beer overlooking the gorgeous Northeast Kingdom hills and valleys.
learn more
---
Four Seasons for Everyone!
If you're looking to experience one of the best flowing trails in America, make sure you check out our "Bare Bones Bike Package". It includes a pass to mountain bike on Vermont's Kingdom Trails - an adventure that every mountain bike enthusiast should experience.
Lyndonville, VT is located in Vermont's North East Kingdom (NEK). In addition to Lyndonville, the North East Kingdom encompasses a number of Vermont towns including Lyndon, Burke & East Burke.
Click here to Reserve a Table at Juniper's
Book Now
---
Come Find Us
We are located at 2059 Darling Hill Rd, Lyndonville, VT 05851