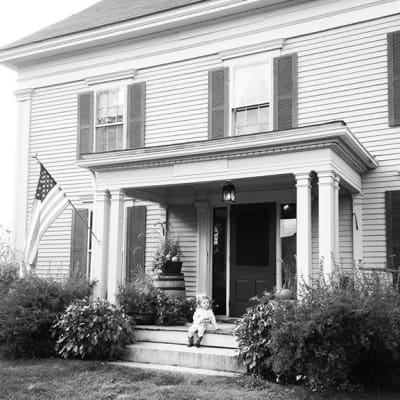 About the Wildflower Inn
Innkeepers Jim and Mary O'Reilly purchased this stunning hillside property - originally consisting of an old farm house, tree lined pastures, and barns - in 1984, and began creating what is now the most wonderful vacation sanctuary in Vermont's Northeast Kingdom, The Wildflower Inn.
The Inn's village-like resort is located on 300 pristine acres in Lyndonville, nestled in the heart of the Northeast Kingdom of Vermont. The resort map below details the inn's grounds and information on each of the buildings on the property.
A True Vermont Country Inn
In true Vermont Country Inn form, The Wildflower Inn proudly serves up extraordinary country fare each morning featuring our famous blueberry pancakes, and expertly prepared and creatively delicious dinners at our Juniper's Restaurant.
After a restful night in our comfortable guest rooms, visitors are always eager to start their morning in our farm house dining room, or glassed-in dining porch. Our hearty country breakfast gets you started in the right direction for a great day in the Northeast Kingdom.

Once seated, you will be greeted with hot coffee, herbal tea, or if you favor something a little sweeter - hot chocolate. A delicious scone, or maybe some fruit and yogurt and some maple granola to get you started. Then order up a hot breakfast entree from the kitchen that will really fuel you for the day! You have many choices, including organic eggs - any style - eggs benedict 3 ways, maple smoked bacon or sausage, and toasted homemade bread is sure to please, or you can try our signature buttermilk or blueberry pancakes topped with sweet Cabot butter and fresh VT Maple Syrup from our sugarbush. And our homefries....mmmm.... seasoned and cooked to perfection!!! You may want to stay a couple of extra days just for the breakfast - it's happened before!
Recognized by Great Travel Publications
Recommended by Red Tricycle, Yankee Magazine's Travel Guide to New England, New England Travel and Life, Vermont Magazine, and National Geographic Traveler. Our Vermont country inn, tucked into the rolling hills of the Northeast Kingdom offers great family fun, romantic getaways, kid spaces, mountain and fat biking on Kingdom Trails right out your door, skiing at nearby Burke Mountain Ski Resort, spectacular fall foliage viewing, and an authentic country vacation experience with old-fashioned charm and hospitality – everything you've been dreaming of for your Vermont vacation getaway!
Click Here to read more!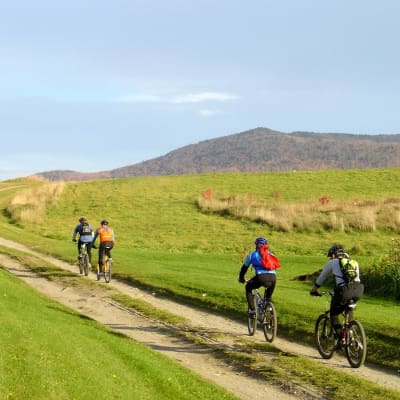 Activities & Attractions
The Wildflower Inn, the Burke and Lyndon area, and the stunning Northeast Kingdom have so many amenities and attractions for everyone.

With over 300 acres and a whole Kingdom to explore, you'll have plenty to do during your stay. Whether you love the adventure of outdoor recreation, browsing shops, galleries and antique stores in the area, or relaxing with a spa treatment, you'll leave feeling rested and rejuvenated.
Inn Activities
Four Seasons, For Everyone! We have so many amenities to keep you busy right here, you may not even want to leave the inn during your stay!

We created the inn with the vision of making it a spot for people to unpack, and just unwind. We know how hectic it can be to go on vacation, the feeling that you have to keep going to different locations to experience different things. But here at the Wildflower Inn, you can pick a few activities to do each day, relax, and enjoy the extra time you have by not traveling from place to place. If you feel you want to go exploring, don't pack up! Just head out on a day-trip to one of Vermont's great attractions, Northern New Hampshire's White Mountains, or even explore Southern Quebec.
With the changing of the seasons comes a list of new amenities for you to enjoy right here at the Inn. In the summer, you might enjoy swimming in our heated outdoor pool, an invigorating mountain bike ride on the Kingdom Trails, a leisurely stroll through the gardens or longer hike on our foot trails. In the winter, try Nordic skiing, snow-shoeing, Fat Tire Biking, or sledding on the best sledding hill around!
At the inn:
Swimming in our in-ground heated pool (open weather-permitting)
Badminton
Hiking on the property and Kingdom Trails
Snowshoeing and Cross Country Skiing on Kingdom Trails (rentals available)
Sledding
Game room and playgrounds
Gardens
Outdoor Adventure
Located in Vermont's Northeast Kingdom, home of Burke Mountain Ski Resort and the Kingdom Trails Mountain Bike Network, you'll love exploring all we have to offer.
We know you're looking for some great adventure thrills! Look no further than the Wildflower Inn and the Northeast Kingdom. We have loads of recreational opportunities just waiting for you to rip it up! Below are just some of the adventure opportunities waiting for you right here!
With over 300 acres, so many amenities and great local attractions to explore, you'll wish you could stay longer!
In the area:
Kingdom Trails - Mountain Biking, Cross Country Skiing & Fat Tire Biking at Kingdom Trails
Canoeing and Kayaking the rivers, ponds and lakes in the area. How about a 2-3 hour kayak trip down the Clyde River provided by our friends at Clyde River Recreation? We highly recommend it!
Hiking on Mount Pisgah,Wheeler Mountain and Burke Mountain
Fishing the many rivers, ponds and lakes
Animal Sanctuary
Golfing at five local golf clubs (St. Johnsbury, Orleans, Newport and Barton, and a family golf course - Grandads - in Newark)
Running - anywhere you want
Swimming in glacial-carved Willoughby Lake
Ice Climbing at Willoughby Lake
Snowmobiling - direct access to VAST trails - we can help arrange rentals
For more info and current events in the Lyndon and Burke area check out the Chamber sites - Burke Area Chamber and the Lyndon Area Chamber.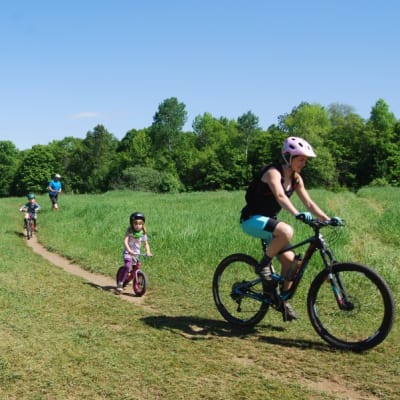 Recent Articles
Here are a few of our reviews and recommendations:
Family Vacation Critic - ...

Tucked in the hills of Vermont, this resort offers the perfect New England family vacation. Situated in a country village like setting, each of the 24 rooms and suites boast spectacular views and spacious accommodations. One-, two- and three-bedrooms suites include private bedrooms, spacious living and dining areas...

A variety of activities are available for all ages ranging from ice skating and skiing to hiking, biking, kayaking, fishing and much more! Families can venture out to other nearby attractions, including the Old Stone House Museum, the Fairbanks Museum & Planetarium and the Hardscrabble Sled Dog Tours.

Tripsavvy - ...On the outskirts of the bustling village of Lyndonville, deep in the crevices of Vermont's remote Northeast Kingdom, the Wildflower Inn beckons to diners with its on-site restaurant: Juniper's. Here, local meat (including some of the inn's own pasture-raised beef) is featured extensively on the menu, along with produce and specialty products from a solid assortment of nearby farms. Dinner is served Tuesday through Saturday, both for inn guests and the public.
Caravan Sonnet - ....Our stay at the Wildflower Inn was absolutely wonderful. Even a month later my mom and I continue to talk about how restful and peaceful the property is and how welcoming everyone on staff was. You could tell that there is a closeness and a warm and welcoming atmosphere that is throughout the community. It truly welcomes you in and is wonderful and we would love to go back.
Red Tricycle - .... Every kingdom needs a castle on a hill, and The Wildflower Inn might not have the turrets but it has the feel of a family encampment and lots more besides. With panoramic views angled for sunrise and sunset, the blush-colored buildings are set in over 300 acres of farm and woodland on Darling Hill Ridge. Owners Jim and Mary O'Reilly have been running the inn as a family vacation spot for over 30 years and have fully embraced the biking scene.
Only In Your State....11 Farm To Table Restaurants In Vermont That Are Absolutely Delicious This amazing place at the Wildflower not only uses local products, their entire menu is gluten free! Whether they use gluten free products or avoid adding unnecessary gluten to their soups or sauces, if you like farm to table as well as gluten free dining, Juniper's is the place for you!
Happy Vermont - ...When it comes to spending time outdoors, Vermont's Northeast Kingdom has everything you could ask for in terms of natural beauty and recreation. It's easy to spend your days in this remote corner of Vermont biking, paddling, fishing, or hiking. This rural region of Vermont is home to more than 37,500 acres of public lakes and ponds, 3,540 miles of rivers, and arguably the best mountain biking in the country.
Almost SuperMom - ....I am so excited to share this adorable little piece of heaven with you today. Read on to discover the wonder of the Wildflower Inn in Vermont...For the first time in a long while I was able to get away with a couple of my kids and experience a vacation being almost completely unplugged from the outside world. I'm not going to lie, it was a tad scary but it was one of the best things I've done for myself and my kids in a long time.
Yankee Magazine - ...I walked Darling Hill Road, past the old Darling mansion, a neo-Georgian banana cream pie of a building in yellow and white, and along pastures where Belted Galloway cattle grazed. The trimly bordered pastures, as well as the Quebecois cyclists gathered to visit the lovely, privately built Chapel of the Holy Family just above, lent a look of rural Europe to the scene.
Columbia - ...While you could jump in your car and drive country roads to witness nature's annual color show, we say two wheels are better than four for experiencing all that this season has to offer. So grab your mountain bike and head to one of these spots for a leaf peeping adventure you'll never forget.
The Wildflower Inn was named Yankee's Best of New England 2010 for: INN, B&B, FAMILY HOTEL
"New England's Best Family Resort"- Yankee Magazine
2005 Innkeepers of the Year - Vermont Lodging and Restaurant Association
"Best Inn for Families" - Boston Magazine's New England Travel & Life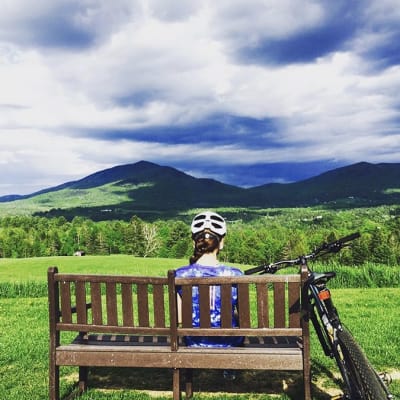 What Makes Us Different
There are so many things that make The Wildflower Inn special!
And what makes us different, makes us better. The unique setting of Wildflower Inn is more than enough to make us stand out from any other place in the world. Being in the center of Kingdom Trails, with all our mountain bike friendly amenities sets us apart from all others. But there's more to it than just our setting...
The fact that we have 8 children of our own and knew the need to create a family friendly atmosphere when we bought the property was just the beginning. As if that didn't set us apart in the hospitality business, we take pride in sharing the beautiful Wildflower Inn as a home for all our of our guests, be they children or adults, or even your four-legged family members!
Set in the heart of Vermont's untouched Northeast Kingdom, we knew the first time we saw the property, that this was a place that needed to be shared!
Guests of all ages say that the most unique attribute of the Wildflower Inn is the charming Vermont hospitality that goes above and beyond, and we couldn't do that without our dedicated staff. We hope you'll come and enjoy this special place, where you'll want to return again and again, and become part of our Wildflower Inn family!
Top 10 Things that Make Us Different
Location / Views
We're right in the epicenter of the Kingdom Trails
Hospitality and Family Friendly
Village Sport Shop Trailside Bike Shop on premise. Mountain/Fat bike and X-Country Ski rentals available.
Mountain bike instruction and guiding/tour with Kingdom Experiences available right at the Inn.
Mountain Bike Storage Barn and after checkout shower room.
Our Country Breakfast
In-ground heated pool (weather permitting)
Sledding Hill
So Much more than a Vermont Country Inn
The best Vermont inn and resort for your New England family vacation or romantic getaway is the Wildflower Inn.
Situated in Vermont's Northeast Kingdom, the Wildflower Inn, New England's Country Resort, is an ideal Vermont Bed and Breakfast as well as an award-winning family resort. We offer a variety of fantastic packages and deals for every season. Perhaps our Fall Foliage Vermont Vacation Package or our VT Ski Vacation Deal is what you are looking for. Check out all of our Vermont Vacation Packages for Spring, Summer, Fall and Winter! We can tell you all about Vermont's beautiful Northeast Kingdom, but you really should come check it out for yourself!
Bringing your Dog to the Wildflower Inn
Being a family friendly inn brought us to the realization that dogs are part of the family too! With so many requests for accommodating man's best friend, we knew we had to become a dog friendly resort. As the premier Vermont pet friendly inn, we'll make sure both you and your dog have a great time.
Old-time Charm, New England Hospitality
Part of the uniqueness of our setting comes from our country collectibles, renovated carriage barns and historic tree lined road, as well as our spectacular pastoral and mountain views. Once a 100-cow dairy farm, the Wildflower Inn has been transformed into a quaint, village-like setting. With 24 guest rooms and suites, it is perfect for either a romantic getaway or family vacation. Our comfortable classic Carriage House rooms and one-room suites are ideal for couples. Our two and three room suites are specially appointed with amenities suitable for longer family vacation stays with the convenience of home.To allow for a truly relaxing, peaceful environment, we have intentionally left televisions and phones out of our guestrooms and lobby. However, we do provide FREE wireless internet service (we are on the tail end of a DSL line, so "streaming" is not going to be smooth) throughout the property. Afternoon snack is served daily in the living room, bringing to mind the superior hospitality and country charm you would expect when visiting your grandmother's house. Our clean, comfortable inn is the perfect place to experience an authentic Vermont country getaway.
Here's a comment that appears on TripAdvisor, which pretty much sums up the inn - "This was our second stay at the Wildflower Inn and we love this place. This is the way a country inn should be. Located on beautiful Darling Hill Road with a view over the valley that just makes it seem like everything in the world is good. Jim and Mary are excellent proprietors who think about their guests and the property. Excellent breakfasts and a beautiful bar area with the view. Quality beds and linens and nicely appointed rooms. Brought our young adult children this year and they loved the inn as much as we did. We will be back."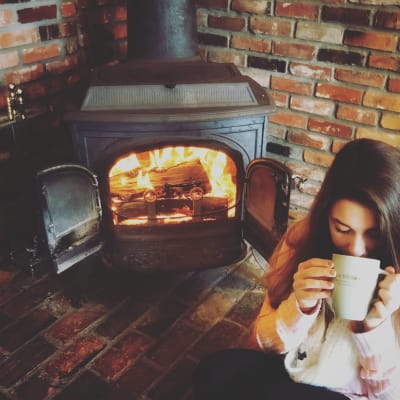 Afternoon Snack
We're just about famous for our homemade chocolate chip cookies!
Our guests can't wait to visit the living room for afternoon snack time - kids of all ages won't want to miss it! Even grown-up kids need an afternoon snack!
Every day at "teatime", you'll enjoy a selection of seasonal goodies, such as homemade cookies and award-winning Cabot cheddar cheese with crackers (who could resist?!) Hot cider in the winter and ice cold lemonade and iced tea in the summer always hits the spot!
Homemade gluten free cookies available upon request!
There is no additional charge for afternoon snack.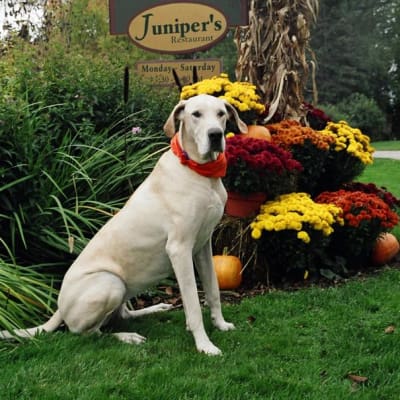 Dog Policy
The Wildflower Inn is a wonderful place to vacation with your dog. We have a number of rooms that accommodate dogs, so if you are bringing your 4 legged friend, be sure to ask for a dog friendly room.
Below is our Dog Policy, please make sure to give it a read before you make a reservation and call or email us if you have any questions.
The Wildflower Inn's Dog Policy and Agreement Form
We would like to take this opportunity to welcome you and your dog to the Wildflower Inn. To make all of our guest's experiences here as enjoyable as possible, we have the following policies in place regarding the stay of your pet.
A fee of $100.00 per dog per stay will be charged to your room (limit 2 dogs per room). In addition to the above fee, after check out your room is inspected and if it is determined that damage was caused to the property of the Wildflower Inn due to the housing of your pet, your credit card will be charged for the applicable damage.For daily housekeeping services, all pets must be in a crate for the duration of the service time, or the pet owner must be present for the duration of service. If the pet is neither crated nor under the direct control of the pet owner, housekeeping services will not be performed. All dogs must be leashed while on the Wildflower Inn grounds, and are not allowed in common areas, such as the Main Inn, Dining Patio, Pool area, Play Areas, Sledding Hill, or Skating Rink, (service dogs exempt).In winter we suggest that you bring your leashed dog to the "White House"/Trailer parking area so that we may contain the area of dirty snow. We also require that you cover up any yellow snow in public areas with white snow.Unattended dogs must be in a crate when left in guest rooms.Noise complaints will be directed to the pet owner. Multiple complaints about a specific dog or any violations of this policy will result in the dog having to leave the Inn and may result in penalty fees. Bags for waste removal will be provided upon check-in. Please do not allow your dogs to do their business in or near the gardens. Our gardeners will really appreciate your efforts since they spend a lot of time on the ground handling the soil and flora. Please deposit dog waste bags in the designated container located outside the Carriage House on the South end of the building.
Thank you for your attention to these matters and we hope you and your pal have a great stay with us!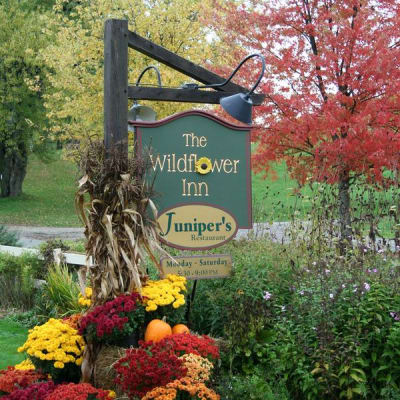 Take a Tour
Tour the Wildflower Inn
View our Photo Gallery
See Guest Photos and send us your own Wildflower Inn Vacation Pictures.
Become a fan on our Facebook
Vist the Northeast Kingdom Tourism Channel on YouTube and Search Wildflower Inn for more videos from our guests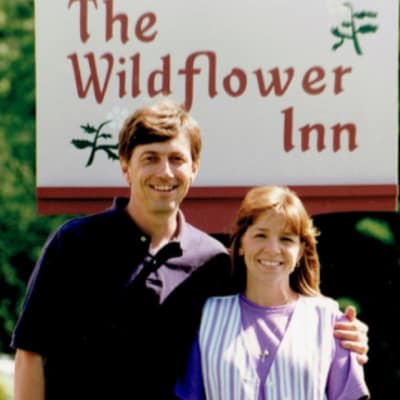 Meet the Innkeepers

When you come to the Wildflower Inn, you will not only meet the innkeepers, Jim and Mary - you are also sure to meet one, two, or more of their 8 children, and 6 grandchildren.
A Note from the Innkeepers of the Wildflower Inn
Welcome to the Wildflower Inn!
The Wildflower Inn was established in 1985 when we renovated a working dairy farm, first built in the late 1700's. Jim left his Engineering career, and we moved to Vermont with three kids in tow and a dream to open an inn. Over the years, the inn has grown from a 4-bedroom Bed and Breakfast to what it is now - a 25 guest room, four season family resort. In addition, our family has grown to include 8 of our own children, two daughters-in-law, one son-in-law, and six beautiful grandchildren.
Mary's parents, Richard and Joan Downing, are partners with us in this venture. Although they live in Massachusetts, they find time to be here often during the year. In the earlier years, Joan worked her magic with the flower arrangements as well as the stenciling. She continues to bring a group of friends up each year for our Christmas decorating weekends. Richard has expressed his love for landscaping by assisting in the formation of our lovely gardens, stonewalls and other pleasant surroundings. He always has a new plan a-budding, whether here at the inn or along Darling Hill, where you'll enjoy an ongoing renewal of several properties! Be sure to visit the Chapel of the Holy Family, the culmination of his love for architecture and gardens, as well as my mother's spiritual guidance. We are so grateful for their contributions - both in work, and moral support along the way!
Throughout the years, our children have assisted in many capacities at the inn. Some are still here, we are glad to report! From waitressing and groundskeeping, to Food and Beverage Manager and Assistant Innkeeper, it has been a joy to work with them! Even some of the in-laws have helped along the way. Their experience gained from being part of the inn has been a significant factor in the successful adults they are today.
As a family, we look forward to sharing this special part of Vermont with you!
Sincerely,
Jim and Mary O'Reilly
Innkeepers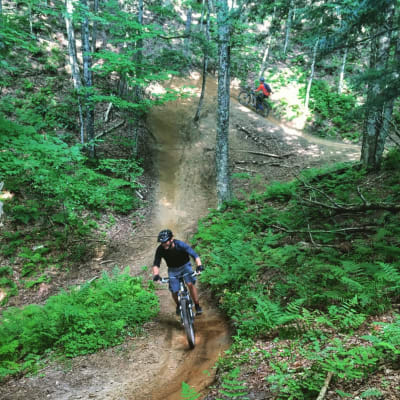 Kingdom Trails Weather Conditions
Current Conditions of the Kingdom Trails and Weather